Oxnard Personal Injury Lawyer
Each day, no matter what we are doing, we either consciously or subconsciously uphold our "duty of care" to those around us. A duty of care is the expectation that an individual will act prudently and responsibly in order to avoid harm to others through an accident caused by negligence, recklessness, or even malicious behavior.
Across the countless interactions with strangers we each have each day, most go off completely seamlessly, without incident; unfortunately, the fact that there were a total of 3,606 people killed in car accidents in California in 2019 shows that this is not always the case. A car accident is just one of the many types of personal injury cases that stem from someone's failure to uphold their duty of care.
After an accident, regardless of type, the victim and their loved ones must often make drastic changes in their lives to account for this unexpected and avoidable situation. Medical expenses, lost wages, and significant emotional trauma all factor into this upsetting experience, and a victim may understandably find themselves dealing with depression or anxiety as they try to adjust to their new reality.
Fortunately, there is a process for victims to seek compensation through a personal injury claim or lawsuit, but dealing directly with insurance companies can be difficult or even impossible when it comes to getting a fair settlement.
Personal injury victims in Oxnard, CA do not deserve to take on the financial consequences of someone else's dangerous behavior, which is why it is so important to partner with a personal injury law firm as soon as possible. The team at The King Law Firm is here to help.
Contact The King Law Firm For a Free Consultation Today
After a personal injury, victims and their families are left trying to put the pieces back together in their personal and professional lives while suffering through significant personal injuries and disruptions to their daily lives. As medical bills continue to increase due to ongoing care — while earnings are taking a significant hit due to missed time at work — those impacted can easily become overwhelmed. Personal injury claims are meant to provide compensation for victims, but insurance companies are more focused on settling for as little as possible, not on settling for what a victim is actually owed.
The King Law Firm offers a free consultation to Ventura County victims of personal injuries to discuss the specifics of their situation with our personal injury attorneys. Wondering what the future holds can be overwhelming, especially while trying to manage the immediate care of these injuries at the same time as trying to understand how to move forward with a personal injury claim. We understand this anxiety and want to put your mind at ease. Our team has years of experience fighting for the money our clients deserve. 
After an accident that someone else causes, you are entitled to compensation, typically more than the compensation an insurance company is willing to offer without a fight. Contact us as soon as possible to learn about how we can help you navigate your personal injury case successfully. Read more about different personal injury situations below.
Common Personal Injury Cases
The following are just a few of the many ways that someone can be hurt in a situation that is covered by personal injury law. Keep in mind that this list is not meant to be comprehensive, and whether or not you see your accident below, contact us as soon as possible for a free consultation.
During your consultation, we will go through the details of your accident and provide you a clear understanding of how our personal injury attorneys can help you get a fair settlement. No two accidents are alike, so contact us as soon as possible to get legal advice about your unique situation.
Car Accidents
With 25,532,920 registered drivers in the state of California, they are all at risk of being involved in a motor vehicle accident on any given day. Each time we take to the roads in Oxnard, CA, we are putting our faith in countless strangers to operate their vehicles safely and responsibly in order to reduce our risk of being hurt or killed.
After a car accident, victims will typically file a claim with the at-fault driver's insurance company to get compensation for their damages, but the auto insurance company rarely has the victim's best interests in mind when handling personal injury claims.
Premises Liability Issues
When legally on someone else's property, we have a right to expect the property owner or manager to take the appropriate steps to ensure that our visit is safe from avoidable hazards. Some of the most common accidents on someone else's property are slip and fall accidents, where someone encounters a wet or slick surface, causing them to slip and fall.
There are many other examples of premises liability accidents, such as unsafe structures, faulty escalators or elevators, and more. If you have been hurt on someone else's property, contact us as soon as possible to get legal advice from a Ventura County personal injury lawyer about your situation and learn more about how we can help you move forward.
Motorcycle Accidents
No matter how vigilant and defensive a motorcyclist is, they are always at risk of motorcycle accidents caused by negligent or reckless drivers. Motorcycle accidents have a higher risk of leading to wrongful death than car accidents because motorcycles do not provide any structural protection for the rider. Instead, a rider's protection is just riding clothes and a helmet, but this equipment pales in comparison to airbags, seatbelts, and a frame designed to absorb impacts.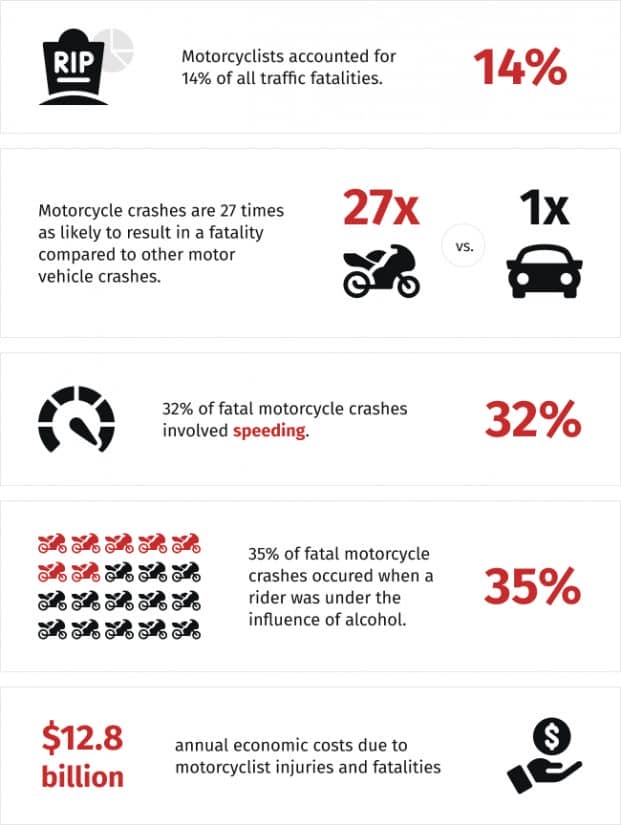 Since a motorcycle accident can cause so much more damage than a car accident, it's important to work with a personal injury lawyer on these claims to ensure that the additional medical expenses and other damages are accounted for fairly.
Medical Malpractice
Medical professionals are guided by a code of conduct known as the Hippocratic Oath, which is centered on the goal to "do no harm." This is enshrined in American personal injury law as a duty of care to use accepted treatments to avoid adverse impacts on a victim. This does not mean that medical professionals are obligated to an impossible expectation to provide a 100% successful outcome every time. But rather that the medical professionals take prudent and responsible steps to avoid unnecessary harm while working towards success.
A failure to properly diagnose a disease as a patient's condition worsens is one example of medical malpractice.
Wrongful Death
Wrongful death is, in many ways, handled the same as any other personal injury case, but the team at our law office knows that these cases are very different from a Ventura County accident that led to non-fatal injuries. The surviving family members are left to deal with a tragic loss while also trying to make sense of how to pay for medical expenses, burial costs. They also have to account for lost long-term financial support from the deceased, among a range of other serious damages.
Getting the money you deserve after losing a loved one in a Ventura County accident can be complicated and overwhelming, but working with an attorney at our personal injury office is one of the best ways to stay focused on healing while we fight to get the money you deserve.
Frequently Asked Questions About Personal Injury Cases
The following questions and answers are meant to give you a general sense of how your unique situation may be handled, but are not intended to be taken as legal advice. Take a look at these frequently asked questions below to get an idea of how an attorney may answer your question specifically, but contact our office as soon as possible to get specific answers to your unique legal issues.
How much is my personal injury case worth?
After an accident, many different variables go into determining how much a victim is owed in either a settlement or lawsuit award. When attorneys or insurance adjusters approach a claim with a "one size fits all" mentality, many details get missed that would otherwise result in a higher settlement amount, but The King Law Firm takes a unique approach to each case to ensure that no details are overlooked.
There is no easy way to determine how much a personal injury claim is worth without a detailed look at the many different specifics of your accident.
When we first partner with you, our work will center on proving that the other party is at fault. Once we have established this or are confident that we can move forward with the rest of our case, we will then set out calculating the individual damages. During this process, we will be in communication with you to gather evidence and give you an idea of what our calculations are showing.
Do I need to hire an attorney after a Ventura County accident?
You are not obligated to hire an attorney at any point, even if you go to trial, but just because you are not legally required to doesn't mean you won't benefit from it. Many people think that they should only consider an attorney if they are going to file a lawsuit or go to trial. But the reality is that a personal injury attorney is initially focused on reaching an out-of-court settlement in order to save time and money dealing with the California courts.
Contact our office for a free consultation today to speak directly with our team about how we can help you. Our consultation will help you get a better idea of what you can expect as you move forward with the case, and we will be able to provide you with insights into how we've handled other cases similar to your own.
Trying to take on the insurance companies by yourself is an uphill battle. They will try to close your case as quickly as possible, for as little as possible, and working with someone who is experienced with this process is a significant boost to your chances of getting the money you deserve.
Will I need to go to trial to get fair compensation?
There is no way to answer this question with certainty, but according to some statistics, fewer than 50% of all personal injury claims are ever taken to court, and many of those lawsuits never see trial. Of course, these statistics have no bearing on your unique situation, but they can give you a better sense of how attorneys approach many personal injury cases.
The reality is that a trial takes control out of your hands and places the outcome with a judge or jury, which insurers and attorneys prefer to avoid in many instances.
One possible exception would be in a situation where your lawyer believes that you may be awarded punitive damages in addition to the compensatory damages they are seeking. Punitive damages are meant to punish the at-fault party, whereas compensatory damages are meant to compensate the victim. Punitive damages are not sought during settlement negotiations.
Only a judge or jury can award punitive damages, and if your attorney believes that your case warrants them, they may push towards a trial without attempting meaningful settlement negotiations.
How long will it take to settle my personal injury claim?
Much like trying to answer questions about how much you are owed or whether or not you will go to trial, there is no way to answer questions about how long it will take to get you the money you deserve. Some cases are straightforward and can be resolved in a matter of weeks, while other negotiations can last until the statute of limitations is set to expire, at which point an attorney will file a formal lawsuit and start preparing for trial.
Only when the process has begun will your lawyer be able to comment on how things are going and whether or not they believe that a settlement agreement is within reach. Fortunately, your lawyer will be able to help you identify a number of ways to manage your finances and debts as you wait for a settlement so you are not overwhelmed.
Insurance companies are able to manage low settlements by leveraging a victim's panic about mounting bills and debts, but being able to wait will improve your chances of getting what you deserve.
Should I accept the insurance company's first offer for a settlement?
An insurance company will rarely make an offer to a personal injury victim that accurately reflects the damages they have suffered. Working with an Oxnard personal injury lawyer from the start is the best way to keep track of your claim. They can help you understand the damages you are owed and will provide support throughout the negotiations process to close the gap between what is likely to be a shockingly low offer and the figures that your attorney has calculated.
Whether you are only exploring your options for filing a claim or you've already gotten a settlement offer, contact our law firm as soon as possible to consult with an experienced attorney about the best path forward.