Oxnard Car Accident Lawyer
A car accident has the potential to completely upend a victim's life, as well as the lives of their loved ones. Costly medical bills, ongoing recovery care, and significant impacts to a victim's earnings can all play a role in a rapidly reduced quality of life as the victim endures pain and suffering as a result of someone else's dangerous driving behavior.
While it is true that there is no amount of money that can undo the trauma of an auto accident, the reality is that accidents are expensive and have wide-ranging repercussions, none of which a victim should be personally liable for if another driver caused the crash. This is where a personal injury claim comes into play, but even then, insurance companies stay focused on settling claims for as little as possible, as quickly as possible. After an Oxnard car accident, partnering with a personal injury lawyer as soon as possible is one of the best strategies for getting the compensation you rightfully deserve.
Contact The King Law Firm To Connect With a Personal Injury Lawyer Today
Finding an Oxnard car accident lawyer who is ready and available to help can be difficult, especially if you are overwhelmed by pain and suffering, medical bills, and lost income. Unfortunately, many people choose to file a claim and allow the insurance company to guide the process. Rarely does an insurer pay what a victim is entitled to without a fight, so working with an attorney is an important step to ensure that you are taking the appropriate actions to get the settlement you deserve.
The team at The King Law Firm makes it easy to request a free consultation and speak with an experienced attorney about your unique situation. Knowing that there is someone willing to help accident victims navigate their personal injury case after an accident can give them the peace of mind necessary to focus on their recovery while we take on the legal aspects of their case.
Contact us as soon as possible to schedule your consultation after an Oxnard car accident. The sooner we are working together, the sooner you can focus on recovering from your injuries without the added emotional burden of a legal claim.
How Much Is Your Car Accident Claim Worth?
Seeking justice after a car accident isn't all about the money. But as you watch your medical expenses continue to rise, lost wages mount, and your injuries seem like they may keep affecting your life forever, having faith that there is a settlement in your future can help you stay positive. When someone else causes an accident that leads to injuries or wrongful death, the victims are entitled to compensation for a range of damages that go beyond property damage and medical bills. The Oxnard car accident and personal injury attorneys at The King Law Firm are here to help.
Calculating Economic Damages
Economic damages cover all the impacts of a vehicle accident that have measurable financial values associated with them. A detail-oriented Oxnard personal injury attorney knows how to gather documentation and evidence of those damages before calculating a final amount for your settlement with the insurance company. They include things like the cost of medical treatment for your injuries, the impact your injuries have on your ability to earn a wage, and more.
You deserve compensation for each of these damages and more, but you can rely on the fact that the insurance company will work aggressively to downplay many of them to save money on the compensation they owe you.
Your Oxnard car accident lawyer has years of experience with personal injury law and will fight to get you the money you deserve after being injured by a reckless or negligent driver. The team at The King Law Firm is ready to help after a serious car accident in California.

Calculating Non-Economic Damages
Non-economic damages are more difficult to calculate than economic damages due to the fact that these damages do not have measurable financial values associated with them. After being injured in a serious vehicle accident, there is a lot more to the aftermath than expenses, including things like the pain and suffering you endure, the depression and anxiety that come with serious injuries, and more.
As you can imagine, assigning a dollar amount to something as abstract as "depression" can be intimidating for someone who is not experienced with Oxnard personal injury law. However, you won't need to worry about this part of your claim when the team at The King Law Firm is fighting for your rights.
An attorney can use a number of methods to calculate a dollar value for the emotional and psychological injuries that fall under this category. They will be able to defend their calculations during negotiations as they seek fair and reasonable compensation on your behalf.
If the insurers are unwilling to reach a compromise for a settlement, then the next step may be to take your case to the California courts. Many personal injury lawsuits are resolved before going to trial, but if you do go to trial, then our legal team is ready to take your case in front of a judge and jury.
The Benefits of Working With The King Law Firm
The King Law Firm is experienced with a range of personal injury claims, including car accidents, premises liability injuries, and more. Whether you've been hurt in a rear-end accident or a slip and fall, we are here to fight for the compensation owed to you — not just the compensation the insurance companies want to pay.
Contact us as soon as possible for a free consultation where we can discuss the entirety of your unique situation. We can discuss the actions (or inactions) that the other driver was engaged in leading to the accident, how being injured has impacted your life, and more. This free consultation can help you look towards the future with confidence that you will be taken care of.
If another driver caused your accident in California, then they are liable for the damages you have suffered.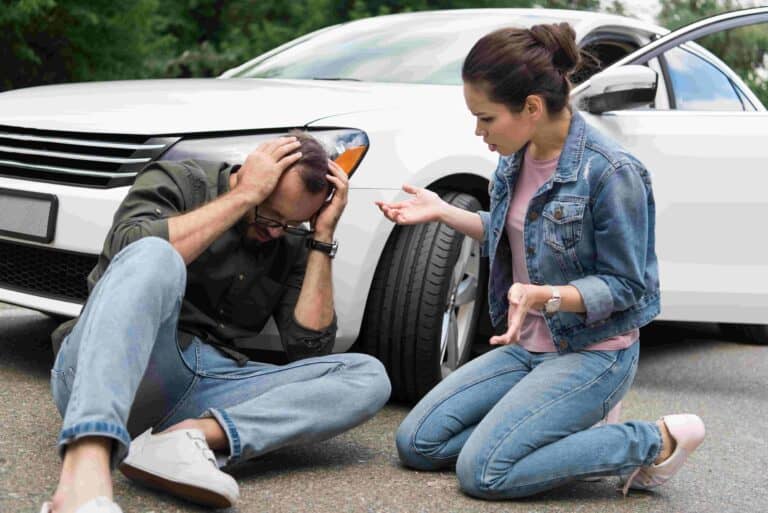 Get The Money You Deserve
Personal injury law is complicated, and insurance companies use this complexity to their advantage by overwhelming claimants with legalese and veiled suggestions that they may be held accountable for the crash if they push for more compensation.
When you have an Oxnard personal injury and accident lawyer working on your behalf, these tactics won't work; in fact, insurance adjusters are typically more receptive to counter-offers that are made by attorneys, given the fact that the attorneys have practical experience with personal injury law.
Focus On Your Medical Care
The King Law Firm will handle all of the administrative work of your car accident so you can focus on getting the care you need for your injuries. In fact, stress is shown to have a significant and negative impact on the recovery process from your injuries. Entrusting this process to an attorney can help your recovery as much as it can help you get a settlement that will fairly compensate you for your damages from this avoidable accident.
Get Answers To Your Questions
When you are a client of The King Law Firm, you are free to ask questions as they come up, and you can expect a clear and understandable answer. Some personal injury firms are difficult to get in touch with, even as a client, and it can be very frustrating to wait while someone unfamiliar with your case goes on a search to get a simple answer to a basic question.
Your comfort and understanding of the entire legal process are important to us, which is why you can rely on our law firm to give you peace of mind with any questions you may have during our work together.
You Don't Pay If We Don't Win
Our law firm operates on a contingency fee basis, meaning that we will take a predetermined percentage of your final settlement or lawsuit award. Many people don't even bother to start the search for a law firm because they don't think they can afford it, but you won't need to worry about any out-of-pocket costs throughout our work together.
If we don't win, you don't need to pay anything.
Contact The King Law Firm Today
The sooner you contact our firm, the sooner we can start taking on the insurance companies on your behalf while you get the medical care, rest, and recovery that you need to get your life back on track as soon as possible.
Knowing that there is a good chance of getting a fair and comprehensive settlement in the future can give peace of mind. We will be able to help you work with your insurance company, hospitals, and other creditors while we wait for your settlement to help you through the financial aspects of your accident.
Contact us as soon as possible for your free consultation.