Wrongful Death Attorney Oxnard
Although nothing can ever make up for losing a loved one, a wrongful death lawsuit is the only way to hold negligent parties legally accountable. Doing so can help prevent a repeat of this tragic event in the future and gives you and your family the monetary resources to provide for yourselves in the absence of your loved one.
Losing someone due to wrongful death can be painful and emotional. At The King Law Firm, we can significantly eliminate the additional stress from the unexpected loss of a family member if their wages helped take care of the family.
Many families in wrongful death cases suffer from emotional loss and financial loss in the present and future. Losses can include medical bills, funeral costs, and the loss of future earnings. All these elements, along with pain and suffering, are incalculable.
Our qualified wrongful death attorney can go over your rights and help you file a wrongful death lawsuit so you can get justice for the loss of your loved one.
When someone else's reckless or negligent criminal behavior is the direct cause of death, the deceased's family can sue the person who is responsible.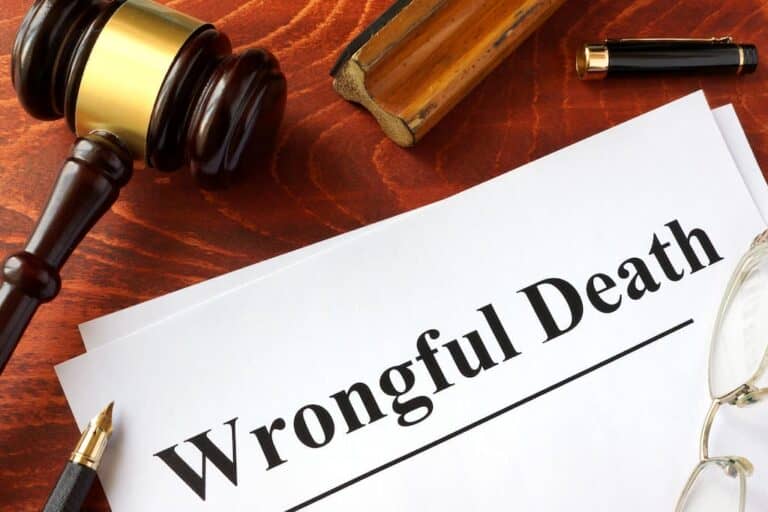 The Elements of a Wrongful Death Case
An element is an essential component of a case. In order to successfully file a wrongful death claim, there are required elements that the evidence must establish. In a California criminal death case, the following elements must be proven:
That a person has died
That someone else's negligence caused this death, or that there was intent to harm
The surviving loved ones are suffering from financial losses as a direct result of the
death
Element One
Element One deals with what constitutes an accident or an intentional harmful act that caused a harmful death. Various kinds of accidents can result in wrongful death, including:
Bicycle accidents
Medical malpractice
Fires
Intentional acts can include assault, manslaughter, arson, murder, and more.
Element Two
Element Two deals with wrongful death caused by intentional or negligent conduct. This is a critical element for a wrongful death suit. You and your personal injury attorney must prove that your family member's death resulted from the defendant's harmful negligent or intentional behavior. You can't, for example, sue a doctor or hospital because your loved one died from cancer. Dying from natural causes, however tragic, is not cause for a wrongful death claim. If you have evidence that your loved one died from cancer due to long-term exposure to toxic chemicals at their workplace, you may have legal grounds to sue the ex-employer for wrongful death. 
Causation can sometimes be a challenging element to prove, so it is essential that you hire an attorney who is experienced in gathering evidence to obtain successful verdicts for their clients.
Element Three
Element Three deals with how wrongful death has impacted the survivors. This can include suffering the loss of your family member's love, affection, emotional support, monetary support, or other contributions to the household. This can also include the hardship of paying for unexpected medical bills and funeral costs.
An Oxnard wrongful death law firm can help you establish the total value of your lawsuit and will help you calculate the damages to which you are entitled.
Who Can File a Wrongful Death Suit
Family members must prove that the wrongful death resulted from reckless or negligent conduct by someone else. Your Oxnard attorney will help you determine causation and prepare your case so you have the best opportunity to receive the financial compensation you and your loved ones deserve.
Your wrongful death lawyer will also prove that the death of your loved one is directly responsible for financial distress, emotional hardship, and other losses.
During this challenging time in your life, it can also be challenging to establish the value of your wrongful death claim and appraise the damages you are allowed to receive.
Without the services of a qualified attorney, it can be challenging to determine the value of your wrongful death claim and calculate the damages you are ultimately entitled to receive.
How a Wrongful Death Attorney Can Help You
An experienced and professional wrongful death lawyer can help you build a strong case against insurance companies. If an independent investigation is needed, the attorney will seek the services of consultants to help collect evidence and determine case specifics.
Additionally, the lawyer will appraise any evidence from the police and your private investigation so they can start building a wrongful death case. The attorney will seek to prove the wrongful death and measure the damage caused by this loss.
At The King Law Firm, our attorney uses statements, video, pictures, and other compelling evidence to showcase the extent of loss the victim's death has left behind in their family member's lives.