Sun Valley Car Accident Lawyer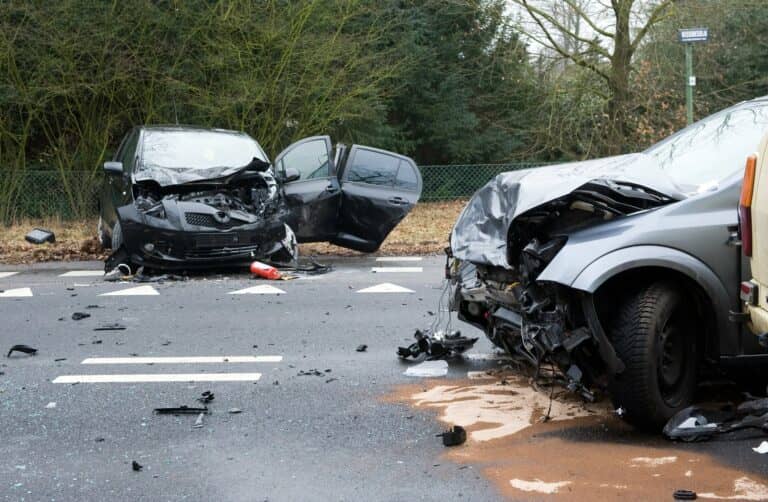 Getting injured in a California car accident is a painful and expensive experience. You may need extensive medical treatment and you are certain to miss many hours away from work.
In the state of California, the person who causes an accident must pay for its associated bills. If you have been injured due to another person's negligence, you will file a claim with their insurance company.
Unfortunately, insurance companies do not always want to pay for what they should. A trained personal injury attorney can help you get the money you deserve.
Our personal injury lawyer at the King Law Firm has many years of experience in negotiating with insurance companies. Kenneth King is committed to fighting for the little guy and getting you the maximum amount of compensation for your motor vehicle accident.
What Should I Do After a Car Accident?
There are a few steps you should always take after you have had an auto accident.
Pull Over to the Side of the Road
When you are injured in an accident, you should always pull over to the side of the road and see if anyone was hurt. The other driver may have a personal injury as well.
Call the Police
If there is any damage to either car or if either person is injured at all, you are legally required to call the police. Even if you feel fine, it is not a bad idea to call them after auto accidents of any kind.
Many injuries are not apparent immediately after an accident. Your body may be in a state of shock and you may not be able to feel the injuries that you have. If you do not contact the police because you feel okay, an insurance company can use that against you and deny your claim.
Get Photographic Evidence
Collecting evidence at the scene of the accident will help your attorney build a case for you. Although it is very traumatic to be involved in a crash, having the presence of mine to take photographs and collect evidence is important.
Take a picture of both cars and any road conditions that you notice. It is a good idea to walk around to the passenger seat of the other driver's car and see if there is a cell phone in it. If there is, there is a good chance that the person was on their cell phone when they were driving.
Collect Witness Names
The first thing you should do is exchange contact information and insurance information with any other drivers involved in the accident. You should also get the names and phone numbers of any witnesses who may have seen the accident between your vehicles.
Although you must be very polite to the law enforcement officer who arrives at the scene, remember that you do not have to answer any questions regarding the collision. Most personal injury lawyers will tell you not to admit to guilt at the scene of a Sun Valley car accident. Even if you think the accident was your fault, there are likely circumstances of which you are not aware.
Go to the Doctor and Document Your Personal Injury Expenses
If an ambulance arrives at the scene, you should never deny treatment from the EMTs. If they tell you to go to the hospital, you should always go. You should visit your doctor within a day or two of your accident even if you feel okay. They can take X-rays and tell you if they notice anything wrong.
Collect documentation of all of your bills including bills for:
Surgery
Doctor's appointments
Physical therapy appointments
Alternative treatments such as massage therapy
Medications
Maid service
Uber rides to and from medical appointments
Ask your employer to write you a letter documenting the number of hours you have missed from work and the amount of wages you have lost as a result. If you have missed out on any promotional opportunities, they should document that as well. If you are self-employed, you should write yourself a letter and make a copy of your tax returns.
File an Insurance Claim
Once you have collected all your evidence, you will file an insurance claim with the other driver's insurance company. They will have you send in the documentation and they will assign your case to an insurance adjuster. The insurance adjuster will investigate the claim and decide whether or not to approve it. If they approve of it, they will make you a settlement offer, you should never accept that offer without talking to a professional attorney.
Quality Representation for Sun Valley Accident Victims
The King Law Firm offers a free consultation for all accident victims. When you come to our law offices for your appointment, we will review all the documentation you have and tell you whether or not we think you should take the settlement offer from the insurance company.
If they have lowballed you, we can represent you and negotiate with them on your behalf. Kenneth King knows all the arguments to use to get you the money that you deserve.
Call Personal Injury Lawyers
If for some reason a better settlement cannot be agreed upon, Kenneth King is also an excellent litigator and will represent you in Sun Valley, California court. He will use the documentation you have provided him, Independent research, expert witnesses, and car accident statistics to win your case. He has been named one of the best Sun Valley accident lawyers. He handles Sun Valley, CA car accidents of every kind including:
Rear end accidents
Sideswipe accidents
Alcohol-related accidents
Single vehicle accidents
Left turn accidents
Car Accident Legal Issues Regarding Personal Injury
Sometimes there are other legal issues related to personal injury cases. You may not have been wearing a seatbelt when the accident happened or the other driver may not have had any insurance. Our legal team has had years of experience and knows how to handle every kind of situation.
Our Promise to You
We have several locations in the San Fernando Valley area. Our personal injury team has the knowledge to help you settle your claim or move forward with litigation. Contact us today.