Truck Accident Lawyer Granada Hills
Trucks are a daily sight on our highways and public streets. They are a vital part of our economy. We rely on trucks as an essential function of our logistics chain to transport heavy goods, flammable products, and even hazardous materials over land.
Trucks are used to transport items too heavy to transport by air or with regular motor vehicles. In fact, according to Federal Motor Carrier Safety Administration, trucks have a gross vehicle weight of over 10,000 pounds. Given the specs of how heavy these vehicles are, when a truck is involved in an accident, it is often fatal with severe property damage.
Due to the sheer size of commercial vehicles, trucks can create a considerable amount of property damage and catastrophic injury.
Suppose you are involved in a truck accident. In that case, it's essential that you contact a professional personal injury attorney who has experience with cases involving 18 wheelers and has the knowledge and resources to get you the best possible outcome. At the King Law Firm, our truck accident lawyers will give you a confidential review of your case and help you determine the best procedure.
Even a non-fatal truck accident can result in severe trauma and injuries, including traumatic brain injury, broken bones, disfigurement, and paralysis.
Colliding with an 18-wheeler can alter your life forever, leaving you with physical, emotional, psychological, and financial losses. Your Granada Hills truck accident lawyer can help you overcome your pain and suffering by fighting for the monetary compensation you are entitled to.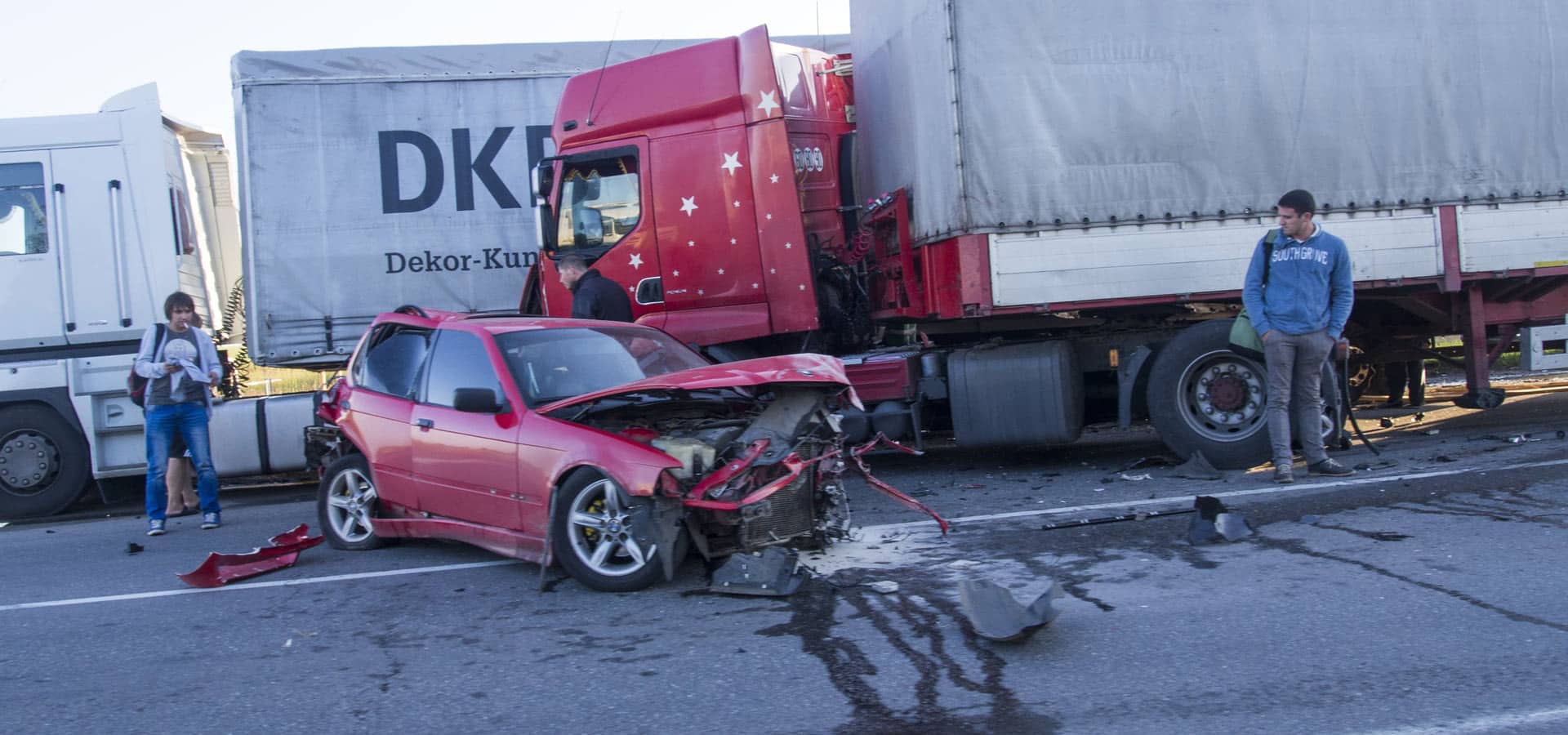 What Are the Most Common Causes of Truck Accidents in Granada Hills?
Given the size and weight of commercial trucks and how much time truckers spend driving compared to the average driver, there are particular scenarios that are involved in truck accidents.
Most commercial truck accidents happen because the driver is unable to control their rig. For instance, we often see collisions that involve:
Blindspot accidents
Rear-end collisions
Jackknifing
Rollovers
Head-on collisions
Tire blowouts
Wide turn collisions
T-bone accidents
Lost-trailer accidents
Outside of losing control, other factors can come into play when it comes to dangerous collisions, including:
Driving while under the influence of alcohol or drugs
Reckless or distracted driving
Driver fatigue
Inexperienced or undertrained drivers
Aggressive driving
Poorly loaded trailers
Defective trailers
Defective trucks
Negligent truck maintenance
Ignoring government safety regulations
While accidents can occur with any vehicle, the difference is that commercial trucks far outweigh the average motor vehicle.
Because of this, commercial truck accidents tend to result in devastating lifelong injuries or wrongful death. If a victim and their loved ones have been injured, they may seek financial restitution for these traumatic injuries.
What Are the Most Common Types of Injuries That Occur Because of Truck Accidents?
As discussed, truck accidents commonly happen when the driver is distracted, improperly trained, fails to inspect an improperly loaded truck, or experiences equipment malfunction. In fact, while the driver may not be responsible for loading the truck, they are in charge of examining the load. The party responsible for loading the truck and conducting a thorough inspection of it may be held liable for any collisions that occur as a result.
Catastrophic injuries, wrongful death, and property damage are likely outcomes when a large-scaled vehicle collides with a regular passenger vehicle.
Common injuries often include:
Broken bones
Fractures
Head injuries
Back and neck injuries
Paralysis
Loss of limbs
Disfigurement
Burns
Death
Who Is Liable for a Truck Accident?
Many factors need to be considered when determining who is at fault for a truck accident.
For example, the driver may be responsible if they deliberately ignore traffic laws while operating an 18-wheeler. The trucking company can be held liable if they encourage drivers to skip breaks or maintenance to meet impossible deadlines. The manufacturing company can be at fault for manufacturing a defective truck and not recalling it when made aware of the defects.
If the truck was not loaded correctly, the shipping company that loaded it might be to blame for an unsecured load.
If you have been in a collision with a commercial truck, allow the truck accident attorneys at the King Law Firm to help you determine who is responsible for your injuries.