Bicycle Accident Attorney North Hollywood
After a bicycle accident, you may be stuck with expensive medical bills, lost wages, and other hardships due to someone else's negligence. However, you have various legal options available to help you overcome this difficult situation and receive financial compensation for your losses. A North Hollywood personal injury attorney can help you file an injury claim or lawsuit.
If you have been injured in a bicycle accident, contact an experienced and knowledgeable attorney to help protect your rights. The experienced attorneys from The King Law Firm have extensive experience handling bicycle accident cases throughout North Hollywood and understand the process to recover compensation. For a free consultation with a personal injury lawyer, contact The King Law Firm today.
What to Do After a Bicycle Accident
If you have suffered a personal injury caused by a bicycle accident, there are several steps that you should take to ensure your safety and protect your rights. These include:
Contact 911
If you were injured in a motor vehicle collision or any other type of accident, call the police and report it immediately. The police can assess the scene and create an official record of the incident.
Seek Medical Treatment
Even if you do not think that you have sustained any injuries, it is important to get medical attention as soon as possible. Some injuries, such as brain or neck trauma, may not be immediately apparent following an accident.
Document the Accident Scene
It is important to document the scene of the accident, including any pictures or videos that you can take with your phone. Additionally, try to get contact information from witnesses and other involved parties.
What Is the Statute of Limitations for a Bicycle Accident Claim
In North Hollywood and throughout California, the statute of limitations for filing personal injury lawsuits is two years from the date of the accident. This means that if you do not file your lawsuit within two years, you may be barred from seeking compensation for your injuries or other losses. It is important to speak with an attorney as soon as possible after a bicycle accident to ensure that you are in compliance with the statute of limitations.
An experienced North Hollywood bicycle accident attorney can help you understand your rights and make sure that your case is filed on time. At The King Law Firm, we fight for our clients every step of the way and protect their rights so they can recover the compensation they need and deserve. Contact us today to schedule a free consultation.
Compensation in Bike Accident Cases
The most important thing you can do is contact a supportive bicycle accident attorney. A bicycle accident lawyer can review the circumstances of your accident, answer any questions you may have, and help you seek the financial compensation you deserve.
Medical Bills
This includes hospital bills, prescription medications, and medical equipment. Past, present, and future medical costs can be recovered in a personal injury case.
Lost Wages
If you had to miss work due to your injuries, you may be able to recover your lost wages.
Pain and Suffering
This is meant to compensate a victim for the physical pain you have endured as a result of the accident. Examples of pain and suffering include loss of enjoyment of life, physical discomfort, and emotional distress.
Punitive Damages
In some cases, the at-fault party may be ordered to pay additional punitive damages if their actions were particularly negligent or reckless. This type of damage can only be issued by a judge or jury in court.
Most Common Causes of Bike Accidents
A personal injury attorney can help you pursue compensation for medical expenses and other losses in your bicycle accident case. Bicycle accidents can be caused by a variety of factors, often resulting in serious injuries.
Distracted Driving
Distracted drivers preoccupied with their phones or other activities may not be paying close enough attention to the road, leading to bicycle accidents. A motorist engaging in negligent behavior can be a great danger to a cyclist.
Poorly Maintained Roads
Potholes and other hazards on the road can contribute to bicycle collisions.
Drivers Failing to Obey Traffic Laws
A negligent driver who fails to obey traffic laws such as speed limits and stop signs can contribute to bike accidents.
Alcohol or Drug Use
Drinking or using drugs while driving can impair motor skills and lead to bicycle accidents.
Equipment Failure
Malfunctioning brakes or other vehicle components can cause bicycle accidents. However, motor vehicle parts are not the only equipment that can fail. Bike components can also malfunction.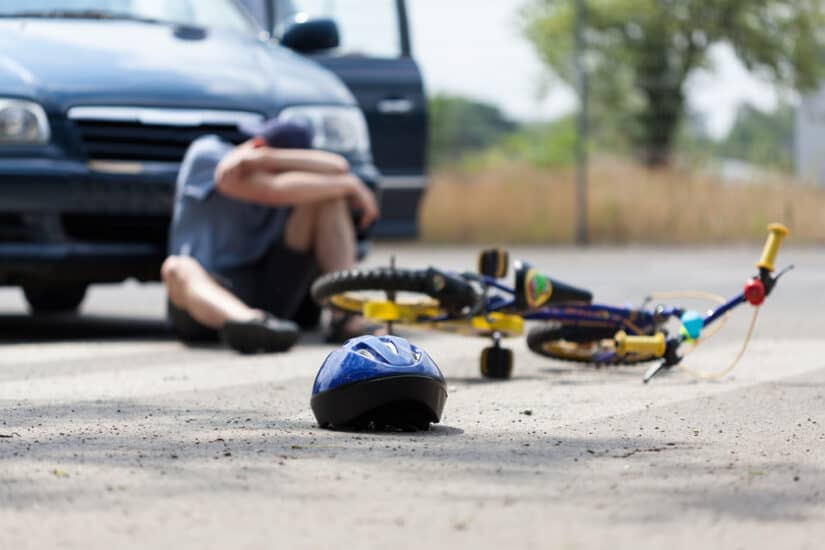 Ways a Bicycle Rider May Be At Fault
In some cases, bicycle riders can be at fault for a bike accident. Reasons could include:
Disobeying Traffic Laws
Bicycle riders must obey the same traffic laws as drivers, including the direction of traffic and stop signs. If available, cyclists must use bike lanes.
Driving Under the Influence
Just like drivers, cyclists who are impaired by alcohol or drugs are at a higher risk of getting into an accident.
Riding Without Safety Equipment
Wearing helmets and other safety gear can help reduce the risk of injury in an accident.
Failing to Use Lights or Reflectors
At night or in low-light conditions, cyclists should be visible to drivers by using lights or reflective clothing.
Not Signaling At Turns
A bicyclist must signal their intentions to other drivers, pedestrians, and cyclists by using hand signals or lights.
Riding Recklessly
Cyclists should ride with care and be aware of their surroundings to reduce the risk of an accident.
Contact a Bicycle Accident Lawyer in Southern California
If you have been injured in a bicycle accident, the attorneys at The King Law Firm can help. Our law offices are committed to fighting for your rights and obtaining maximum compensation for your damages.
Your attorney can provide attentive legal representation every step of the way. This includes everything from filing an insurance claim to negotiating a settlement. Your attorney can handle all conversations with insurance companies on your behalf so you can focus on getting better. Call us today to schedule a free consultation with one of our experienced bicycle accident lawyers.