Car Accident Lawyer North Hollywood
North Hollywood is a neighborhood of Los Angeles, California, and is located in the San Fernando Valley region. North Hollywood is known for its numerous small independent theatres. The most famous is the El Portal on Lankershim and Weddington. The neighborhood's residents commute to work, go to dinner or a movie, go shopping, or just drive out of the city. Unfortunately, the more they drive, the greater their risk of getting into a car accident.
The major car accidents in North Hollywood occur on the I-5, 170, and 134. Other hazardous roads are Vanowen Street, Victory Boulevard, Oxnard Street, Lankershim Boulevard, Tujunga and Vineland Avenues, and North Clybourn Avenue.
If you or someone you love has suffered a North Hollywood car accident, contact a personal injury attorney as soon as possible. Our law firm is ready to stand up for you and to focus on what is most important – getting your life back on track and making sure that you're fully compensated.
Common Types of Car Accidents Injuries
Depending on the severity of your car accident, you will be entitled to receive compensation for your injuries. Some of the most common types of car accidents injuries are:
Traumatic Brain Injuries (TBI)
Car accidents are a leading cause of traumatic brain injuries. Unfortunately, 50,000 people die from traumatic brain injuries each year, and more than 80,000 suffer long-term disabilities.
Spinal Cord Injuries
Being involved in a car accident and suffering with a spinal cord injury could cause long-term disability. Any damage to the spinal cord can result in partial or total paralysis below the location of the injury.
Back Injuries
Probably the most common injuries that could result from car accidents are back injuries. As the human spine is not designed to support heavy impact, back injuries may be severe and long-lasting.
Fractures or Broken Bones
Car accident victims may suffer a broken pelvis, legs, ribs, arms, ankles, or wrists. The severity of the injuries varies from simple breaks that require a cast to more severe breaks or compound fractures that may need surgery to repair.
Disfiguring Facial Injuries and Scars
Broken glass or the impact with a steering wheel, airbag, side window, car seat, or other hard surfaces may result in facial injuries. Disfiguring facial injuries may require surgical correction and could leave the car accident victim with scars.
Other common car accident injuries are concussions, severe burns, nerve damage, internal bleeding, severe road rash, displaced ribs, blunt force trauma, limb loss, or amputation. However, not all car accident injuries need to be physical to seek compensation. Suffering from mental injuries after being involved in a car accident may be enough. You may have post-traumatic stress disorder and be entitled to mental health treatment and compensation for emotional suffering.
What to Do If You Have Been Injured in a Car Accident
Dealing with the process of personal injury claims can be pretty complex. Along with the tremendous stress following the accident, you will need to face all the financial burdens of an auto accident.
The first thing you need to do is get immediate medical care to make sure your health is in good hands and that you have the best chance of recovery. Attend all the medical appointments, and follow up on all recommended treatments. You will only raise questions about your injuries by failing to do so, and the insurance company may attack your credibility. After all, they only want to minimize the compensation and to pay you as little as possible.
Before reporting your accident to your insurance company, get legal assistance from a car accident lawyer to explain your rights. To significantly increase your chances, make sure you have the following:
Accident report
Ambulance reports
All medical reports from the day of the accident and the hospital stay
Insurance policy
Photos or videos on the accident scene
Statements from eyewitnesses
Other than evaluating the facts and evidence in your car accident case, our law firm will work to establish that the other driver's negligent behavior caused the accident and your injuries.
Negligence Per Se and Damages You May Be Entitled To
Getting involved in a car accident can lead to devastating, lifelong consequences for both you and your family. We know the roads in North Hollywood and that these busy streets are at times packed with drivers who don't give the road their full attention. According to the National Highway Traffic Safety Administration, nearly 25 percent of all car accidents are caused by distracted drivers. Almost 80 percent of the entire driving population in the United States has confirmed they text and drive occasionally.
Under California laws, car accident victims can skip proving the general elements of negligence and focus on establishing a presumption that the defendant was negligent. If you can prove that the defendant injured you while breaking the law or violating safety regulations, the negligence per se rule applies. In North Hollywood, there are many traffic laws that drivers should avoid violating, such as texting while driving, illegal lane changes, speeding, or failure to yield.
If you can prove that the other driver has been engaged in any of those behaviors at the time of your car accident, they will likely be liable for your damages.
Once you have established that the defendant negligently harmed you in a North Hollywood car accident, you may be able to recover compensation for your injuries. If you have suffered catastrophic injuries, you may not be able to work any time soon, meaning that you will have to deal with numerous medical and repair bills. Depending on the severity of your case, courts may award you damages for:
Lost wages and diminished future earning ability
Property damage
Hospital bills
Permanent disability
Scarring and disfigurement
Pain and suffering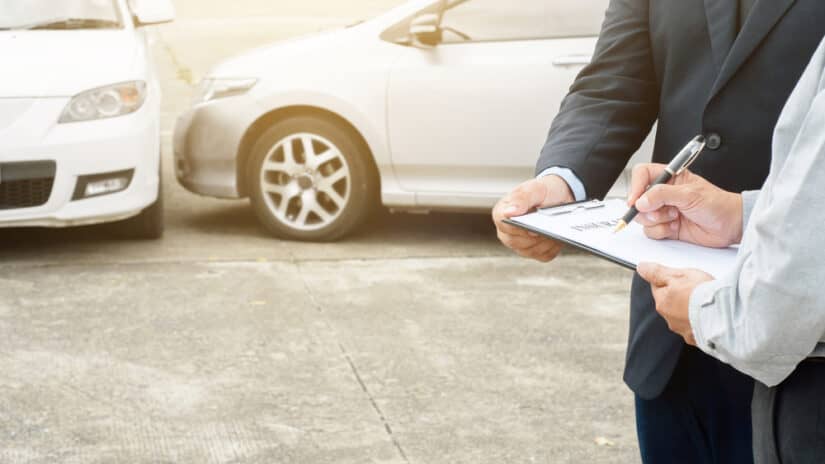 Why Should You Hire a North Hollywood Car Accident Attorney
Apart from the physical and emotional pain, having to search for a personal injury attorney in North Hollywood is most likely the last thing you want to think about. Look no further than the King Law Firm. Trying to acquire a favorable settlement without a North Hollywood personal injury attorney is risky, as you may get much less than you deserve. We are here to fight for your rights and help you recover the maximum compensation for your injuries and damages.
We will obtain the evidence you need to prove the other driver's negligence in your car accident claim. We will also acquire the accident and police reports and speak with any witnesses. If you have been involved in a car accident, contact us for a free consultation at 805-448-4306, and let us analyze your case and fight for your rights! It's time for you to heal and get back on your feet while we handle the hard work.
FAQs About North Hollywood Car Accidents
Should I contact a lawyer after a North Hollywood car accident?
Not everyone who is involved in a car accident needs to seek legal representation. If your accident is severe and resulted in injuries or extensive property damage, it is advised to call a lawyer as soon as possible. Having legal representation will significantly increase your chances of total compensation. Moreover, a lawyer will begin building your case and will seek a fair settlement.
What can a car accident lawyer in North Hollywood do for you?
A car accident lawyer will provide legal assistance in obtaining the money you are entitled to for your injuries or your loved one's wrongful death. This compensation includes lost wages, medical expenses, future lost earnings, pain and suffering, property damage, or mental anguish.
What does negligence per se mean?
Negligence per se is a doctrine in U.S. law whereby an act is considered negligent because it violates a statute (or regulation). A doctrine is effectively a form of strict liability. To prove negligence per se, the plaintiff usually must show that the defendant violated the statute and the act caused the kind of harm the statute was designed to prevent or that the plaintiff was a member of the statute's protected class.